Enterprise Data Architect
📅







95903

Requisition #
📅







Sep 06, 2023

Post Date
Title: Enterprise Data Architect
Northern Trust Asset Management business unit is looking for Data Architect candidate with strong expertise in relational and cloud databases. The candidate would be part of very dynamic and fast paced team in defining, documenting and operating overall data strategy for the business unit.
Key skills required for the role:
Data Architect with Data Product mindset building Strategic Data Platform
Evangelize data strategy among stakeholders such as business users and various data teams through design, documentation, review and cross team negotiations to support strategic business and technology goal
Expertise in designing data solution on Snowflake Data Warehouse on Azure
Investment management or Asset Management Experience recommended
Willing to get hand on for prototyping and federated business enablement (SQL, Python, Java, Snowflake config/dashboard)
Demonstrate experience with data quality, security and consistency on cloud database.
Comfortable with designing the database, data models, data processes, and data warehouse applications through the use of best practices and tools
Expert level understanding of relational database concepts, dimensional database concepts and database architecture.
Strong understanding of Snowflake Internals and integration of Snowflake with other data processing and reporting technologies. Experience in configuration, maintenance and optimization of snowflake databases
Azure cloud solution architect to provide technology solution to business problems, with strong understanding of various services available on azure.
Deep understanding of relational and NoSQL data stores, methods and approaches.
Experience with Dimensional, Star, Data Vault and Snowflake data modelling
Rich Experience of designing and implementation of database models (LDM & PDM), data flow diagrams, database schema, DB scripts.
Leading teams through influence to help build their knowledge on end to end solution considerations using domain driven design and other modern engineering practices.
Past data science (AI/ML/GenAI) experience a big plus.
Roles and Responsibilities:
Document data program roadmap, architecture and patterns.

Interface and communicate with global teams to collaborative work on business deliveries (planning and execution).

Responsible for overall data architecture for all areas and domains of the enterprise, including data acquisition, data warehouse, data provisioning, and data distribution.

Provide design level functional and technical expertise along with best practices.

Understand and implement the latest delivery approaches based on data architecture
About Northern Trust:
Northern Trust, a Fortune 500 company, is a globally recognized, award-winning financial institution that has been in continuous operation since 1889.
Northern Trust is proud to provide innovative financial services and guidance to the world's most successful individuals, families and institutions by remaining true to our enduring principles of service, expertise and integrity. With more than 130 years of financial experience and over 22,000 partners, we serve the world's most sophisticated clients using leading technology and exceptional service.
Working with Us:
As a Northern Trust partner, greater achievements await. You will be part of a flexible and collaborative work culture in an organization where financial strength and stability is an asset that emboldens us to explore new ideas. Movement within the organization is encouraged, senior leaders are accessible, and you can take pride in working for a company committed to assisting the communities we serve! Join a workplace with a greater purpose.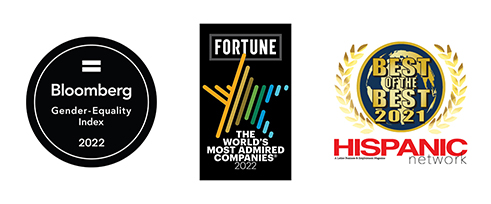 We'd love to learn more about how your interests and experience could be a fit with one of America's best banks and most sustainable companies! Build your career with us and apply today. #MadeForGreater